After weeks of cookies and cupcakes and truffles and frosting and (a failed attempt at) brownies, sometimes you just want good ol' red meat.
And sweet potatoes.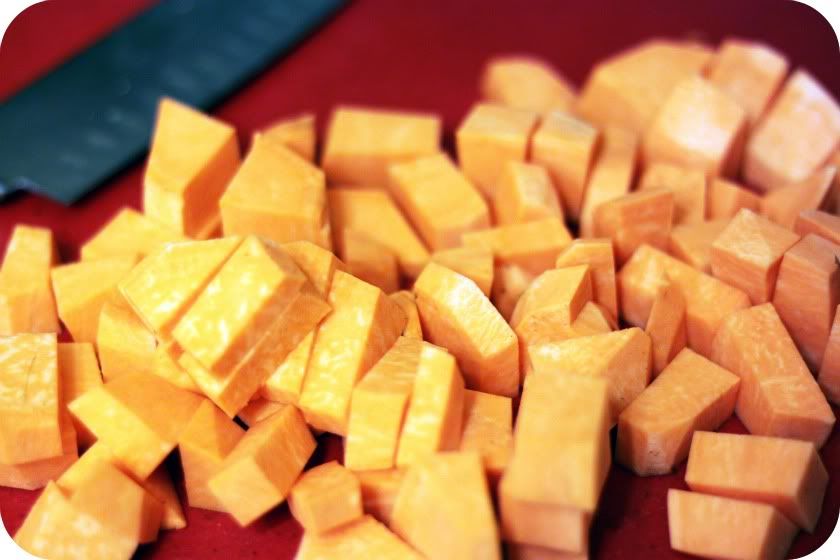 And carrots and onions and mushrooms and garlic.
And beer. DEFINITELY beer.
Then you pour it all over rice (ok- I may have skipped a few steps….but you get the idea).
And then, with your hair a hot mess and a slight dusting of flour on your slippers (yes I wear slippers around my apartment. Yes, I'm actually 80 years old and go by Myrtle), you trek over to your couch and put on the greatest show ever. Fear Factor.
Not kidding- have you seen it since it's come back? It's ridic. I can't look away. Part of me wants to be Joe Rogan when I grow up just so I can make people do the insane things on the show.
1 ¼ lbs Stew Beef, chunked into bite size pieces

½ cup Beer (I used a Pumpkin-flavored Belgian)

1 lb Sweet Potato, peeled and cubed

Rice and Parsley to serve
In a gallon-size Ziploc bag, add flour along with salt and pepper to season. Add diced beef. Close bag and shake to lightly coat the meat. Set aside.

In a large pot, heat 2 Tbsp olive oil over medium. Add as much beef that fits along the bottom of the pan in a single layer. Brown on all sides - it doesn't need to be cooked through, just browned. Once all of the beef is cooked, remove from the pan and place on a plate. Set aside.

In the same pot, heat the remaining 2 tablespoons of olive oil. Add onions and carrots and cook until onions are translucent (5 or so minutes). Add mushrooms and garlic, and cook for another 3 minutes. Add tomato paste and heat through. Deglaze the pan with the beer, scraping the browned bits from the bottom of the pan as the beer steams.

Add sweet potatoes and broth along with the bay leaf, thyme and Worcestershire. Then add browned beef. Simmer on low for about 45 minutes or until the veggies are cooked through. Taste and add any sugar (if it's too acidic), salt and pepper. Serve over cooked rice and top with a bit of parsley.